Shocking Video: The shocking video of being swept away by the wave of photo desire went viral; Five people drowned in the sea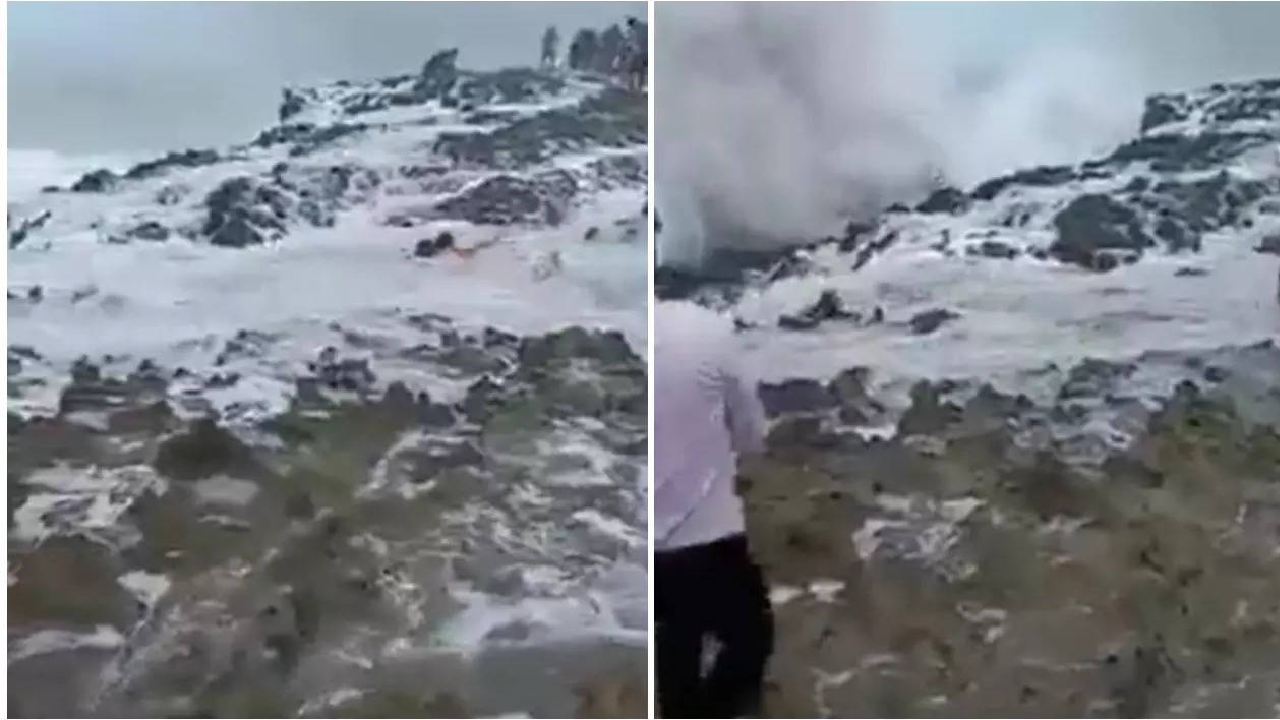 People washed away in the sea of ​​Oman
Oman Beach Video: Five members of a family who went on vacation met a tragic end. The father and son were found dead and the bodies of the other three have not been found yet.
Mumbai: Selfie or photo craze sometimes kills our lives. He went to the sea in Oman MaharashtraA huge wave hit a family in the Sangli district while they were enjoying themselves, killing 5 people. 7 people who were standing on a rock on the seashore to take a photo were swept away by the wave of water. Two of them were rescued and the remaining five died.
Five members of a family who had gone for a holiday have met a tragic end. A 42-year-old man and his 6-year-old son drowned while playing on a beach in Oman on Sunday. Three more people who were on the shore were swept away by the wave. The deceased have been identified as Shashikanta Mamane and her son Shreyas. Three more bodies have not been found. The entire incident was recorded on camera by someone else.
Also read: Shocking Video: The man beat up the husband who kissed his wife while bathing in the river!
As they watched, a huge wave of the sea hit the three young women who were posing for the camera. When he was offering his hand for help, the wave swept him away. Then the family members are screaming loudly in helplessness. This video was taken by another tourist and now it has gone viral on social media.
Your "Life" is more important than your "Likes". pic.twitter.com/3XNjyirbwJ

— Dipanshu Kabra (@ipskabra) July 13, 2022
The incident took place in Al Mughsail area of ​​Oman's Dhofar Governorate. Three others, including Mamane's nine-year-old daughter Shreya, are still missing, PTI reported. The man hails from Jat town in Sangli district of Maharashtra. He lived with his family in Dubai. He left for Oman on Sunday with his wife and two children for a one-day trip.
Visuals of Oman,terrifying & disheartening💔.High tides absolutely not for fun.Warning if given one should be extra careful or avoid visiting the shore.Accidents happen in a blink of an eye,joy turns into grief.Sorry😔for the families. Prayers for the departed souls. 🙏Om Shanti.💐

— Shwetambari Rajput (@ShwetambariRaj3) July 13, 2022
Also read: Young men and women flirting on a short bridge in Koppal; The youth was slapped by the EE who arrived at the spot
It was seen in the video that when Khushi was happily playing on the beach, suddenly a strong wave hit the shore. According to Mamane's brother, he was working in a private firm in Dubai. The bodies of the mother and her son have been recovered by Omani authorities. Mamane is also drowned by the rush of water while trying to save her children. A search is underway to trace the missing persons.
Disturbing Video Shows Eight People DRAGGED Into Raging Sea in Oman Authorities are continuing to search for the people who were swept into the sea at Mughsail Beach in the country's South. Three bodies were recovered, including one child, and two people were found alive. pic.twitter.com/iA0yzkW9ze

— Samuel Mamotheti (@sam_mamotheti) July 13, 2022
Netizens who saw this video said that life is more important than likes on social media. He tweeted that don't play with life.
breaking news
.